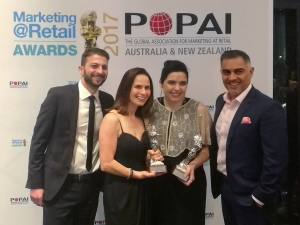 Oct 13, 2017 – At last night's 2017 POPAI Marketing @Retail Awards, Microsoft and their agency partner – Retail Safari –  were awarded the "2017 Field Marketing Excellence Award". The industry event is dedicated to celebrating and recognising the innovations of retail and shopper marketing across Australia.
"We are incredibly proud to receive this esteemed award," said Michelle Casey, Channel Marketing Lead, Consumer Channels Group, Microsoft Australia. "It's recognition of the robust work we're doing in-field and a testament of our talented in-field Microsoft evangelists who are 100 per cent committed to delivering compelling customer experiences that drive demand and sales across our entire ecosystem."
Awards were presented in several retail marketing categories. Microsoft was honoured among leading national field marketers for demonstrating excellence in innovation and implementation of a retail campaign that successfully influences and enhances the shoppers' journey.
"We are proud to be a collaborative partner with Microsoft," says Louise Mockler, Group Account Director at Retail Safari's Sydney office. "It's always been an honour to be in a strategic partnership that not only meets and exceeds business objectives but earns Microsoft recognition within the industry and community."
POPAI is the only global, not for profit industry association exclusively advocating for excellence in shopper and retail marketing. With more than 45 offices and 1700 member companies worldwide, POPAI brings global best practice intelligence, resources, recognition and networks and to their members.
Click here to see 2017 POPAI winners.
-end-
For more information:
Tania Peck, 0414 011 587
tania.peck@cpm-aus.com.au