2020 saw unprecedented disruptions to shopping and consumption patterns. For Christmas, Australians found new ways to find and buy gifts for loved ones by embracing online shopping to keep the spirit of the season alive.
As we approach Christmas 2021 with the same challenges for retailers from COVID-19 restrictions and lockdowns, questions around what this year has in store for the retail holiday season abound. How has the pandemic changed Christmas shopper behaviour? Will people stay with online shopping? Our 2021 Christmas Shopping Intentions research answers these questions and more. To undertake the research we partnered with Swinburne University's CXI Research Group to conduct an online survey during August 2021.
This year's edition builds on data collected in our annual surveys since 2016. We compare the survey results to historical data and trends, where we explore the shopping behaviours, attitudes, and preferences of Australian consumers for the 2021 holiday season.
A new addition to this year's survey includes insights into how holiday shopping behaviour has changed in relation to pre-COVID, and what Black Friday and Cyber Monday shopping habits will be for the upcoming holiday season.
Here we present the trends retailers, brands and the industry need to be on the lookout for as we approach Christmas 2021 with the same challenges once again.
Key Findings
HOLIDAY SHOPPING CHANGES RELATIVE TO PRE-COVID-19
Australians will be doing more purchasing online to avoid physical stores, and increasingly support local businesses when shopping for Christmas presents.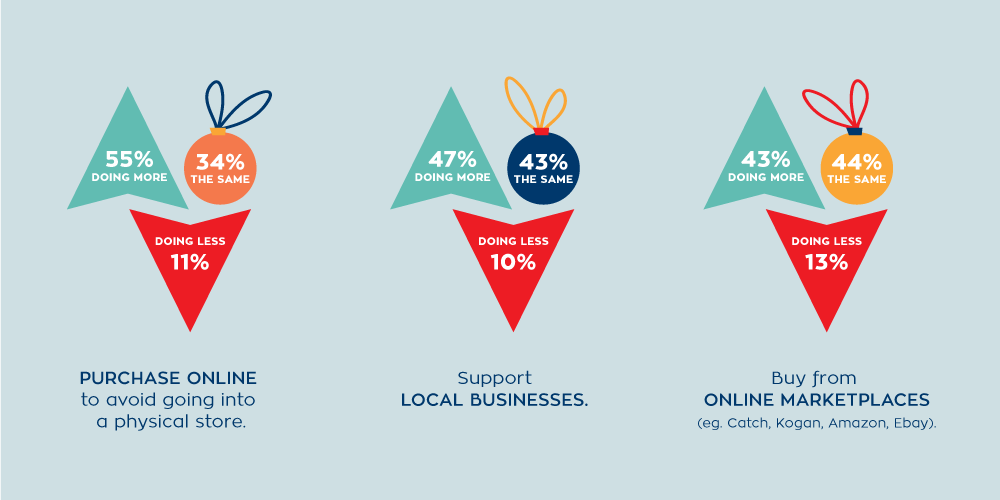 AUSTRALIAN CONSUMERS PIVOT ONLINE
More Australian shoppers are planning to use only online stores to conduct their holiday shopping. For the first time in six years running this survey, the most popular retail format with holiday shoppers is internet-based retailers.
SHOPPER CHANNEL PREFERENCES
Despite a surge in shopping online only, most shoppers will use an omnichannel approach to find the perfect Christmas gift in 2021.
TOP REASON FOR SHOPPING IN-STORE
Even in the middle of a pandemic, touching, feeling and experiencing the product remains important.
CHRISTMAS SPENDING PLANS
This holiday season, more consumers are planning to spend more than last year, but they are still cautious with their spending.
WHEN CONSUMERS PLAN TO SHOP
Australians intend to keep shopping to the end of the year. November peaks as the most popular Christmas shopping month, with December not far behind.
IS BLACK FRIDAY THE NEW BOXING DAY?
In 2021 Cyber weekend sales events, Aussies will be more likely to buy from local retailers than overseas retailers, buy electronics, and buy online rather than in physical stores.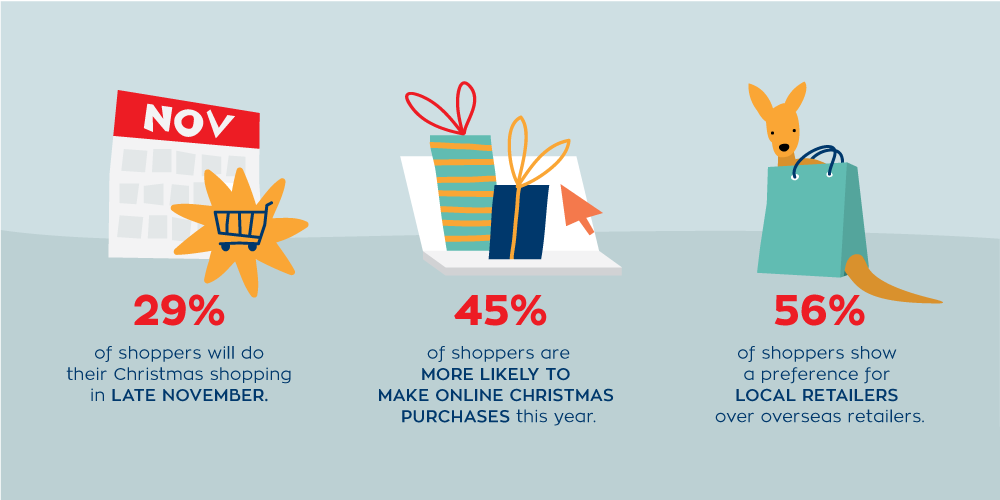 Final Thoughts
With the hybridisation of retail, bricks-and-mortar stores are not the final destination choice for shoppers; they are now one of many touchpoints along the journey.
With COVID-induced limitations around shopping, most Australians have become comfortable with the concept of moving seamlessly between physical and online channels for their shopping experience. Retail has responded by blurring the lines between physical and online stores, so they are not viewed in isolation anymore – the hybridisation of retail. This looks to be a change that is here to stay. Nonetheless, for holiday shoppers clicks aren't replacing bricks.
Physical stores remain a popular option, with the 75% of shoppers intending to use an omnichannel approach for Christmas 2021 using physical stores as often as online channels (48% and 52% respectively).
With the rise of online and an unwavering passion for physical store experiences among consumers, retailers and brands that embrace the blur will find themselves increasingly well-positioned to respond to retail's new era of hybridisation, being available anywhere and anytime during the purchase journey.
You can download the full 2021 Australian Christmas Shopping Intentions Report here.
Insights from CPM-Retail Safari's 2021 Christmas Shopping Intentions Report are featured in the November issue of Inside Retail magazine.