As we approach the 2020 Christmas shopping season, questions around the impacts of COVID-19 on shopper behaviour abound. What will be the same as 2019? What will be different? What do we, as retailers, marketers and brands, need to be thinking about as we enter into the most important retail season of the year?
To answer these questions and gain an understanding of Australian's holiday shopping and purchasing behaviour before the gift-buying madness begins, we conducted an online survey with Swinburne's CXI Research Group.
This year's report is a special edition as it builds on data collected since 2016 in CPM-Retail Safari's annual surveys. In this year's edition we compare the latest survey results to historical data and trends, where we show that in some areas COVID-19 has had a significant impact, while in others, not so much.
Christmas 2020 spending intentions
COVID-19 continues to dominate news and impact people around the world. Unsurprisingly, heightened uncertainty around job security and real impacts on consumers' incomes from unemployment and reduced work hours have had a noticeable effect on how much consumers are planning on spending this coming Christmas.
The proportion of Australians planning on spending less this Christmas has doubled from 17% in 2019, to 34% in 2020, a significant deviation from the long-term average. The intention to spend less this coming Christmas increased across all age groups. The most notable result from our survey was that – for the first time since 2016 – those aged 18-34 are now the most likely to be planning on spending less for Christmas. A massive 40% of 18-34s are planning on spending less this Christmas, two-and-a-half times 2019's 16%.
On a brighter note, one in two Australians (51%) are planning on spending the same as last year.
Looking at holiday spending patterns by state, our survey results on intended spending likely reflect the greater impact of COVID-19 on Victoria relative to the rest of the country. Victorians are the most likely to be spending less this Christmas, at 43% of people surveyed (average across all states = 34%). Western Australians are not far behind at 39%.
When should retailers expect the spending rush?
Consumers' plans around the timing of their Christmas shopping are basically unchanged from 2019. Australian consumers will do almost half of their shopping (48%) in November. Late November remains slightly more popular than early November (25% vs. 23%). Over half of those aged in the 18-34 & 35-54 age brackets intend to do the majority of their Christmas shopping in November.
Shopper channel preferences
There have been significant transformations in the retail channel space over the last five years. This is no truer than over the past 12 months, where dramatic changes in shopper channel preferences have become apparent – no doubt largely driven by COVID-19 and its impact on our daily lives.
Since 2016, the proportion of consumers intending to use only a single channel – physical store or online – for their Christmas shopping has been decreasing, with a corresponding increase in the omnichannel approach. This trend has accelerated strongly for Christmas 2020, with fewer consumers than ever planning on using a single channel for their holiday shopping.
Where are consumers shopping this Christmas?
As we have seen over the past several years, consumers won't be using a single retail format for their Christmas shopping in 2020. They will continue to shop across a variety of locations, with retail formats that boast a large selection of categories likely to be the most popular with holiday shoppers.
The top three retail formats for Christmas shopping across all age groups are unchanged from past years. In top place are department stores, with 60% of consumers planning on visiting them for Christmas shopping this year. In second place are discount department stores at 45%, followed by internet-only retailers at 32% (a slight drop on 2019's 38%).By rethinking the customer experience and offering customers what they value during this pandemic, businesses and their call centre partners will be better placed to anticipate and prepare for unexpected situations into the future.
The Christmas gift list
As we have seen in past years, there is little change in the types of gifts on shoppers' purchase lists this Christmas. Gift cards and certificates maintain their status as the No. 1 gift holiday consumers plan on giving, and their popularity continues to rise, with one in two shoppers (51%) planning on purchasing these (up from 46% in 2019). Clothing and shoes also remain a popular choice, particularly with those aged 18-34 (49%, a decrease of 6 points on 2019).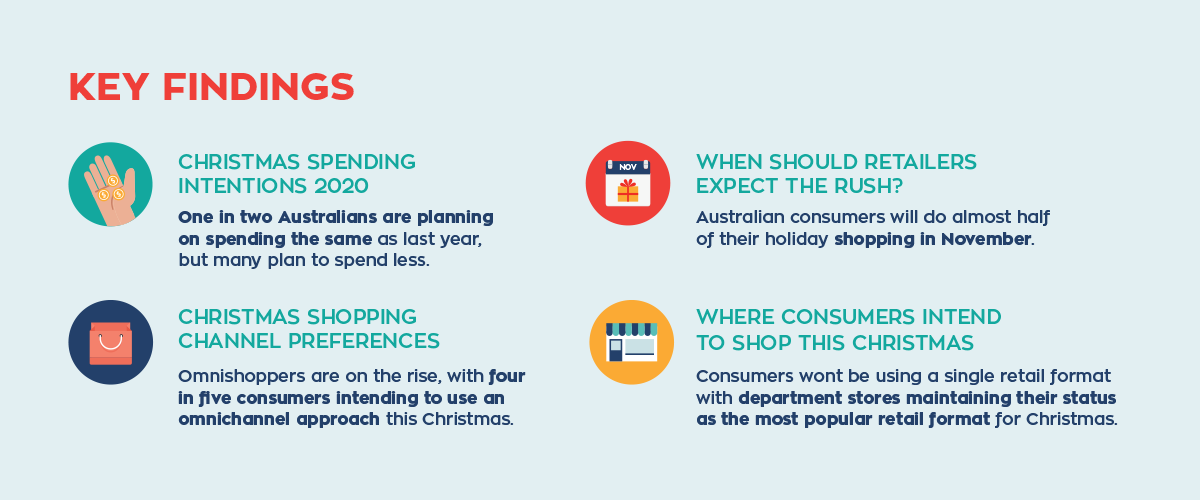 Key takeaways
The 2020 Christmas shopping season will be different. As Denise Lee Yohn recently wrote in Harvard Business Review, 'Retailers need to stop expecting business to return to "normal". There's no going back to how it was anytime soon.'¹ As brands and retailers plan for the busiest shopping period of the year, understanding what shoppers now need, want and expect will make a difference.
In order to assist in winning the holiday retail season this year, we have identified three key takeaways for brands and retailers preparing for the upcoming Christmas shopping period.
To explore these key takeaways and to take a deeper dive into this year's shopping outlook, download the full report on 2020 Christmas Shopping Intentions – Consumer Outlook and COVID-19 Impacts Report here. 
INSIDE RETAIL FEATURE ARTICLES
Insights from CPM-Retail Safari's 2020 Christmas Shopping Intentions Report are featured in two recent Inside Retail articles:
References
¹ Yohn, D.L., The Pandemic Is Rewriting the Rules of Retail, Harvard Business Review