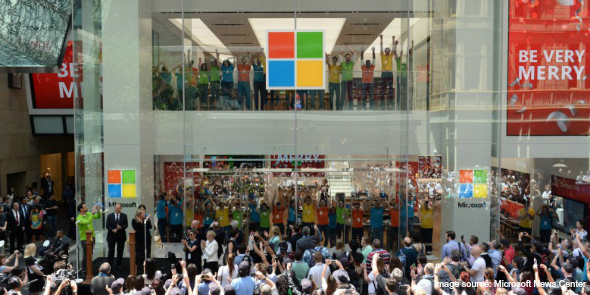 'A world class service that will empower any customer' says John Ford from Microsoft International of the experience that Microsoft has promised to deliver at their new flagship store on Pitt Street in Sydney.
Following an overwhelmingly successful launch with thousands of consumers turning up to witness the opening of the first Microsoft store outside of North America, it's a bold statement but one they can make with confidence.
POPAI showed their support of this landmark occasion with the inauguration of their RETAIL INSIDE OUT series of events kicking off at the Microsoft store on March 3rd. With only 50 places available for a behind the scenes tour, accompanied by insightful presentations from industry leading speakers; the events present a unique opportunity for members to gain the strategies, capabilities and learning's from the momentous undertaking of creating a consumer electronics flagship store.
Microsoft have purposely situated themselves on the same prestigious retail strip as technology neighbours Telstra, Samsung and Apple. Their point of difference being the successful creation of a more actively engaging environment that includes the entire spectrum of products and services under one roof. 'You'd certainly be hard pressed to cover everything on offer in a single visit' says Nabih Awad, GM Merchandising and Assisted Selling at CPM, of his experience at the store.
As well as staff being armed with transaction capable Microsoft phones, customers can touch, walk around with and purchase products anywhere in the store. There is also an Answer Desk that provides expert advice (available in 21 different languages) and repairs for ailing devices, regardless of where they were bought.
'This is smart retailing at its best and it would serve many brands well to take note and introduce their own versions of an in-store customer centric experience' says Nabih. A growing trend in the market, these immersive store environments have demonstrated a need for brands to be more dedicated to delivering an exceptional customer experience. Nabih believes 'there's always room for improvement and innovation so it will come down to which brand best embraces this thinking and delivers it consistently to their customers'.
For further information about the Sydney launch or some of the retail trends we can expect to see in 2016.