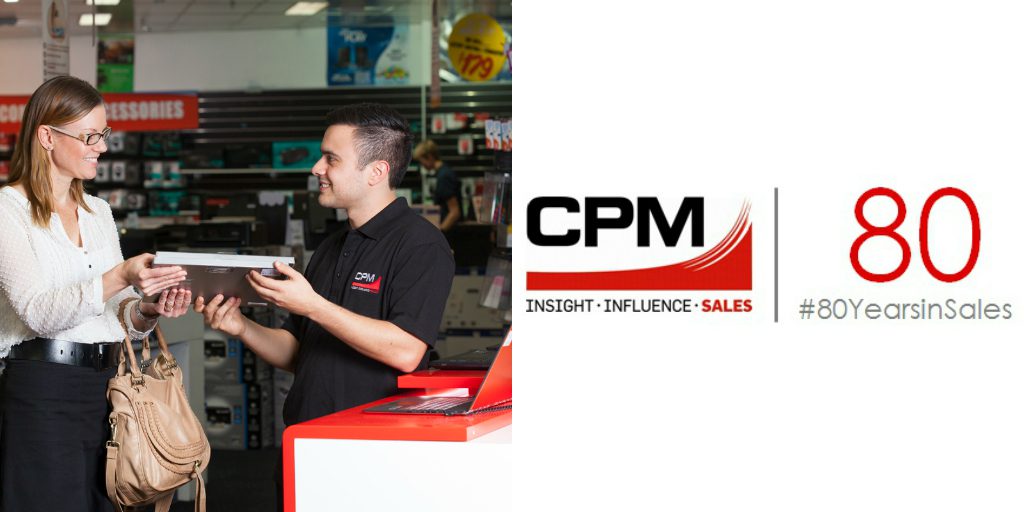 London, United Kingdom, 19th September 2016 – 2016 marks CPM International Group's 80th anniversary.
CPM first set up office in the UK in 1936 as an over-the-counter marketing agency and since then, the business has continued to evolve and grow to become today's global leader in integrated field marketing, contact centre and digital marketing services; representing over 200 blue chip global brands across a multitude of sectors.
80 years young. We are faster, sharper and more innovative than ever before
Today, CPM celebrates 80 Years in Sales; 80 years of delivering incremental revenue for its client brands through its brand promise: Using the power of insight to create influence and drive sales for our clients.
The success and evolution of the CPM brand can be witnessed in the key company stats below:
CPM employs over 37,000 people across the globe.
The global business will deliver more than $3 billion of sales for its clients
CPM will make over 20 million face-to-face sales calls in retail across the globe
CPM will undertake over 150,000 audits across 40 international markets for our clients
Its international multi-channel contact centres will handle more than 20 million inbound and outbound sales & customer care calls this year in 32 languages across 92 international markets.
CPM will carry out over 1.8 million sampling/demonstration days
Speaking about the anniversary, Group Chief Development Officer of CPM, Joost van de Ven remarked: "We are delighted to celebrate 80 Years in Sales. While we have developed ourselves as a global leader in outsourced sales over the past 80 years; we are forever evolving our service offering and technologies to ensure we are delivering innovative sales solutions which deliver true competitive advantage and incremental sales for our clients."
CPM is the leading partner for outsourced sales solutions, with impressive global clients spanning FMCG, Retail, Technology, Automotive and Financial sectors, to name a few. The special partnership CPM has with clients is all about transparency, trust and performance – old fashioned values that work well in a very modern world, and which is also the reason its client base continues to grow.
For further information on the CPM Group heritage, please see the Company Timeline.
CPM is a UK registered company, employing over 37,000 people across the globe. It is also a part of the Omnicom Group.
For queries, please contact CPM Group at international@cpm-int.com
Web: www.cpm-int.com | Tel: +44 20 3481 1020
CPM International Group, 239 Old Marylebone Road, London, NW1 5QT, UK
About CPM
CPM is an award-winning international outsourced sales agency specialising in field marketing, contact centre and digital marketing solutions working alongside our extensive portfolio of  clients to deliver long-term strategic programmes and shorter term tactical campaigns.  CPM forms part of CPM Group, one of the world's largest outsourced field marketing and sales companies. CPM is a part of the DAS Group of Companies.
About Diversified Agency Services
Diversified Agency Services (DAS), a division of Omnicom Group Inc. (NYSE:OMC) (www.omnicomgroup.com), manages Omnicom's holdings in a variety of marketing communications disciplines. DAS includes over 200 companies, which operate through a combination of networks and regional organizations, serving international and local clients through more than 700 offices in 71 countries.
About Omnicom Group Inc.
Omnicom Group Inc. (www.omnicomgroup.com) is a leading global marketing and corporate communications company. Omnicom's branded networks and numerous specialty firms provide advertising, strategic media planning and buying, digital and interactive marketing, direct and promotional marketing, public relations and other specialty communications services to over 5,000 clients in more than 100 countries.