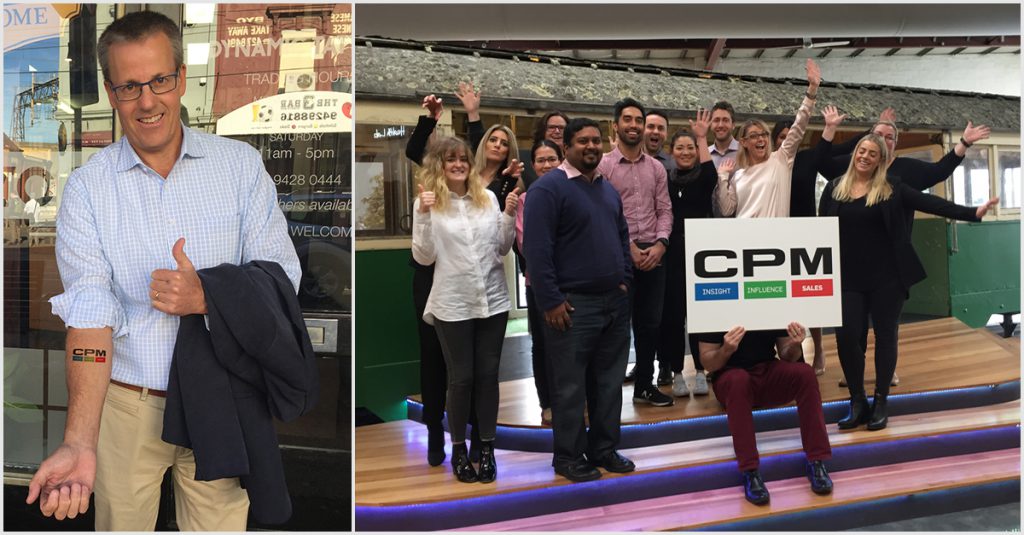 CPM Australia is in the business of people. Our people set us apart from the competition.
We hire people who are passionate about their work and the brands they represent and know how to apply intelligent, creative thinking to every opportunity.
In keeping with this enthusiasm, our staff's approach to embracing a new logo was no different. In preparation for our new logo launch, our marketing department sent out a brief to our teams in Sydney and Melbourne to create a short video clip of staff interacting with the new logo.
Within 24 hours, our marketing's team inbox was full of quirky and energetic video snippets. We had entries such as a human wave from our Melbourne contact centre, a be-dazzled Sydney activation manager rolling down the hallway, and a cheeky video from our managing director leaving a tattoo parlour in Richmond. Unsurprisingly, each and every video had heart, soul, and a whole lot of chutzpah.
"People aren't afraid of change here; instead they welcome it," says Cath Upham, Director People, Learning & Development, CPM Australia. "I wasn't surprised how well our staff greeted the new logo. Here at CPM, our philosophy is very simple: our success is dependent on collaboration. Everything we do is geared toward making it easy for everyone to talk to each other – whether in-store or across our different offices. Being a sales and marketing agency, we also encourage our staff to be passionate and fun. Passion and pride is the driving force behind everything we do and we take the time to celebrate our successes."
Our new logo signifies CPM's continued growth & culture for innovation which is in keeping with our unifying purpose:
"To have authentic conversations to activate customers and sell more products"
A big thanks to each and every one from the CPM & Retail Safari family who have embraced our new look and bring fresh ideas to life.